So mini-ourhomestatewhichwelove-tour is done.. It was beautiful rolling around every corner of California in the spring time, where everything takes on a shade of green usually best described in some 'Lord of The Rings' type bullshit.. a striking and beautiful green to say the least. Tera Melos and Polar Bears were amazing to hang and rock with.. having all Californian bands and friends from my home area was especially cool.. why, I don't know.. but it just was. When there aren't long distances to travel, interviews and press, and the general buzz of peripheral tour-energy around it becomes a much more relaxed environment. You end up standing around and talking more, going to eat together more, and just taking it easy.
takin it easy after brunch the morning after the worst attended RX show in years; 91 people paid and attended. We thank you Bakersfield!(honorary mention to Fresno)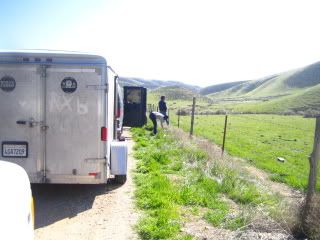 taking it easy on the CA-45 en route to San Luis Obispo from Bakersfield
Question To ye dude-bros in SLO @ downtown brew and the guy in Orangevale a The Boardwalk: What is it about being at a show that makes you guys wanna push and bum-out other peoples to the max? are you guys just so faded that it seems that people enjoy your sweaty-ass rubbing your pits in their face and smashing them around as you hold your arms up incessantly as if to get our attention onstage only to say nothing or to grunt out to play an old song? If you dudes, have some sort of actual mental disability then I sincerely apologize and retract my question because there is no way for you to know better.. To the guy at the boardwalk who somehow got back in after throwing water all over everyone and being kicked out; get a clue.. if not for other peoples benefit, then for your own I implore you to get a fucking clue. There was a totally nice looking and cute girl you could have been dancing with right behind you that you instead chose to drunk-guy-butt-check the whole time you were allowed to stay up front. You cheeky bastard. And I better not get any responses to this again about me being ungrateful towards our fans and how I should let them do whatever they want even if it means bumming out the majority of the other peoples there whom I ultimately care more about than some jock, and if that bums you out then soRRRRRRrrry.
I'm allowed to hate spirit fingers!
We arrived back in the LBC on sunday night, and came straight back to The Binford Building in Little Tokyo to resume finishing the recording. Matt's pipes are taking a break so all day yesterday and today we've been doing various over-dubs. I've played everything from Haitian gift-shop maracas, vocoders and even more synths. At High noon today Matt was given his voice a test run and I headed down to the Little Tokyo shopping center to grab some pastries and a rice bowl with uni, and roe. I'll probably go sit in the steam room for a while when I get home from the studio today, sweat out some of the partying done over the past week. Adding the bells and whistles to the tunes is definitely pumping me up.. and you all are probably sick of reading over and over about how stoked I am on the progression of this record without hearing any direct results.. but too bad. You must wait!
back in the lab. Even the demon knows its crunch time