(1.)In regards to the album: This is a headphone record if I've ever heard one.. so all of you make sure you have your comfy nice-sounding headphones ready, you still have some months. When you begin to get deep into tracking and nearing the end its the coolest thing ever to be listening to the latest mixes and hear something you really love. As you say to yourself "..hey that sounds really cool.." you immediately realize, "..hey, that's me! I played that!". That's a sort of acceptable form of self-praise because you first enjoyed it without the pretense of knowing it was you. But what do I really know, I'm even DEEPER than I have been claiming I was before.. you could listen to the record and tell me that it incorporates elements of euro-dance-thrash and I just might believe you. I know every corner and blip on our record... yet have no idea what it sounds like at the same time. What I do know.. is that this is a headphone album.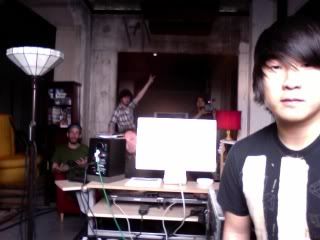 (2.)In regards to this photo: So today we are again at the Loft in Little Tokyo to live through the day that is the last official day of tracking of the record, and possibly record some stuff too. Some of these ProTools sessions are getting pretty gnar-gnar (SAT word). I think some of the more massive songs have upwards of 42 tracks going.
(3.)In regards to random-asinine thoughts in my head: Baseball season begins April 6th! I am happy for this one among only a few great American inventions, along with Jazz, California, Hip-Hop, Extreme Makeover:
Home Edition
, the banjo, false democracy (siiiike),
and Fugazi. I wouldn't imagine anyone would appreciate me ranting about baseball here, so I shall spare you the geek speak, but just know that I do indulge my dorky pleasures as many of you do. When you've kicked back on the partying, starting paying attention to your health, drowned in your creative work and discover your own wonderful simple pleasures you turn into a short korean guy who rides his bike, cooks and talks about food, hates more music than he likes, watches baseball, and writes/records music. I'm a fuckin' animal!