...And so yet again I find myself asking where the last few weeks have gone, and how is it possible that we're due to begin playing our small run of low-key California shows in just two days. As many of you know, or have read and seen, we've been in the studio working on the new album and inside the creative time-warp that is our own heads. Hours become minutes, minutes become flashes, and seconds are only good for blinking, the snapping of cameras and fleeting thoughts about things other than what you're trying to focus on.
For both on, and off days during recording we listen to mixes that are updated with whatever was laid down last on the track, to refine that which is not quite solidified, to create new ideas, and to lock down pre-existing ideas and arrange them properly. Common to all of our senses, our context has everything to do with how we experience things, and hearing might be even more sensitive to such circumstances. I've been listening to only the album on my morning bike rides, seeing Long Beach through another gel while I take my mind out of a studio, away from my instruments, and into another place both literally and figuratively. What I love about listening to our stuff on my bike is that I'm able to forget that its us, and I can just.. listen. I like this album.. a lot. I often like to say that "our music breathes when it hits your ears" and through this practice of 'bike-monitoring' I get to experience that exactly. Creations free of their creators tendencies, insecurities, self-criticisms, and general awareness of flaws, is art in function. Creations which are then subject to those similar yet different criteria of others is art in action. When you hear our songs they become free of our minds and although you have your own set of criteria for judging them, they are not ours; and that makes all the difference. I guess a shorter more direct way of saying what I've been dragging out is that I appreciate the inevitable variety of interpretation, and cruising around the LBC on my bike allows me to interpret our album differently than I normally would. Its good.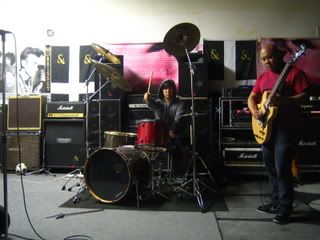 Roger and I being dumb at Machines practice, seeing how high we can jack the cymbals up before the drums are just unplayable
I'm seriously sore. Machines played a show this last saturday in Tehachapi, CA and I gave those drums a proper beating. It was such a crucial physical release after being synthesizer geek and guitar nerd for the past week after live tracking. Sometimes, your soul just needs to get behind the drums and play as hard as you fucking can. If you were to make the drums invisible while someone was playing it would look like that person is doing the most far out tribal dance on the face of the planet... pretty funny image, but clearer view as to what a release it really is. After the show, we headed to quite the local's local bar to be punished by faded heads. We bailed and had grown-man-slumber-party over at Danny and Donny's parents house and woke up to a righteous breakfast put on by their folks.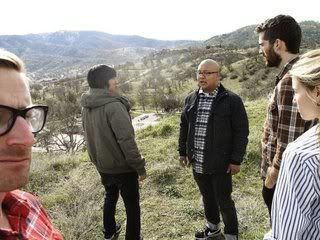 Checking out the landscape before we descend back into the dirtier air of LA (photo: Aaron Belchere)
It is currently 6:54 am on Tuesday morning here in Long Beach. 56 degrees, Winds: W @ 5 mph, Humidity: 86%. Why am I up so early? Because I love mornings and when I'm not on tour I like to take advantage of a fresh and calm world which an early morning can provide. I just peeled myself out of bed, and once I get my tea I'm headed out for a run and a sauna after which we have rehearsal again all day today before we leave tomorrow to Fresno, CA for some 'Grapes of Wrath' rock! Everyone that knows me has now become familiar with the insanity which sets in while we record or become deep in any creative process. I start jumping around and making monkey noises, have trouble forming coherent sentences or thoughts, and am just generally scatter-brained. I apologize if any of this has rubbed off onto you from reading my nonsense. Home today, shows tomorrow! Eat your fruits and veggies, and breathe deeply.