I already hate the word 'blog', yet I think its fair since there isn't an alternative word for a publicly written journal entry of sorts. I believe that the spectrum of reasons for which people write these things is as varying as people and the blogs themselves. I often begin thinking about the reasons I write this blog, which are always changing as are the things I take away from knowing people read this and comment on what I've written. There are those times where I report on the status of the band and its doings, the filtered thoughts, the unfiltered thoughts, the informative, the editorial, and the stupid sense of humor which everyone who knows me must tolerate. I wish I could say that I feel uninhibited enough all the time to just write everything that I'm thinking, but I'm not, and it would take 70 stupid blog entries everyday to even get close. I actually feel some pressure sometimes to try and be entertaining or interesting which I hate feeling, but it probably comes from the same place that my desire to actually share my music grew from. However, I will say that I think a good majority of the thoughts which jog through my mental landscape everyday are not worth stopping to talk to... but there's the occasional good idea deciding to get off its lazy ass and get some exercise.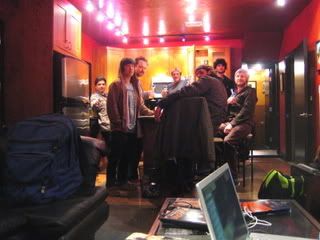 We are currently working in downtown Los Angeles. Matt is doing his vocals while I finish up various synth and keyboard stuff as well as arranging a couple of short 1-2 measure breaks in a couple of the tunes which will have all kinds of little things going on. The Loft is nestled right out side of downtown in the closet of Little Tokyo, quite the comfortable spot. Since our dear producer/engineer Mr. Fudurich is also a stage lighting enthusiast his pad is also lit very nicely.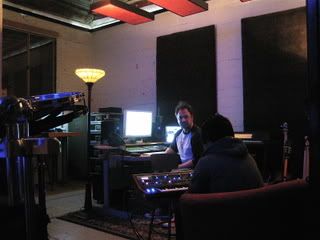 C. Fudurich and I creating the sound of a spaceship docking for the beginning of 'Buff Costello'. You'll probably never know which song we refer to as 'Buff Costello'.
The other day, Joe and I walked down to the newly reopened version of Mitsua market and got some fruits and snacks.. delicious indeed. I'll probably do an update on our food adventures just from recording this album, which have been extensive and large. You'll probably be able to catch us in Little Tokyo all week running around grabbing snacks and having meals about the plaza. I just now began stressing about the semi-gnarly week I have ahead of me.. in addition to recording we have two Machines rehearsals this week before our show in the quiet mountain town of Tehachapi this weekend. The shows is at a vfw hall there where they often have shows. I must say again, I really love playing these kind of low-key, shitty PA shows. Just throwing the gear in the back of a car or mini-van, driving your asses up there and rocking hard, and hanging with your friends is the best. I don't get much of that in our touring world of RX these days, and Machines shows help me to continue to enjoy both ways of doing things. Time for another cup of Pomegranate White Tea, and then off to the loft. Payce.
P.s. - 4382-5828-4319 I challenge you to challenge me at mariokart.