Or maybe it was the giant fires and the Santa Ana's that did that.. who's to say really. I rode up to the Potholder this morning to meet up with Portugal to have some breakfast. They're in town on tour so we got down. I had to make up for the fact that I totally bailed on their Chain show last night, because I was Leisure King. And now we return to practicing and writing and chillin in our purple rehearsal studio. Somehow our short 3 day trip to Boston last week really took it out of us.. that was a tough little trip but the show was pretty fun so I'd say it was worth it, but I had some pretty good musical ideas while I was watching cooking shows on the plane. Where the hell is my brain right now...I'm not even gonna go back and fix that ridiculously stupid run-on sentence which I'm kind of even adding to right now.
This is my desk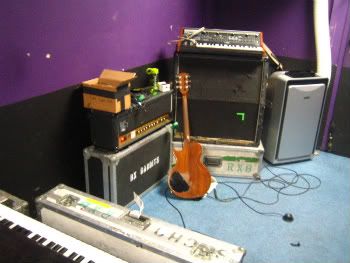 I think I'm losing my mind because I've been recording and glued to the Triton all day.. that little lcd touch screen and the beeps it makes while you try and mold something out of the crappy preset sounds in there really twist my head. I sometimes feel like I'm gonna have battery acid bleeding out of my eyes wile I watch some sort of circuit board slowy take over my body..watch out for ladytigerblade.
My cpu is not stoked on 20 tracks of drums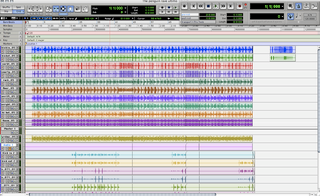 this Playlist has gotten some serious use lately on every run and every bike ride:
Built to Spill - The Plan
Archers of Loaf - web in front
Fugazi - Badmouth and Waiting Room
Green Day - Uptight
Bayside - I think I'll be Ok
Gangstarr - Full Clip
The Hives - Die All right
Knapsack - Decorate the Spine (my 11th grade anthem)
The Knife - You take my breath away
Swingin Utters - Storybook Disease
Weezer - El Scorcho
No Knife - Academy Flight Song
Deltron 3030 - Things you Can do
Kanye West - Through The Wire
Jawbreaker - Million
Jawbreaker - Shield Your Eyes (my 10th grade anthem)
Archers of Loaf - Scenic Pastures
Gorilla Biscuits - New Direction
Soundgarden - My wave
Saves The Say - You Vandal
Lightning Bolt - ride the sky
The Shins - Kissing the Lipless
Converge - Concubine
The Gain - Frustrated
Roberta flak - Killing me softly
Time to go grub down and then go to practice.