Its been a while since I've last written something, or at least something worthwhile which I haven't ended up scrapping. There have been many things I had wished to address but that is also missing the point of why I write a '(b word I hate)'. I somehow have put a lot of pressure on myself lately to write something creative, engaging, entertaining, witty, and all the other things I wish to be perceived as, but I realize that's foolish and came randomly from some sort of insecure place. I don't do this for the attention or praise of my actions and thoughts, but to create a community for people whom we feel are like-minded in consciousness and the mutual appreciation for music and creativity. Sometimes I need to remind myself of these things.
Most people don't like change... its just a fact. I myself don't like it too much in regards to things I like and enjoy, but as a whole try to embrace it in the general life-sense because I like the growth and the experience, but also because you either adapt and accept change or you get burnt and shitty. We are all familiar with this cliche I'm sure, albeit in a more articulate and less crude way then I just said it. So as many of you know we have been dealing with change ourselves here in RX camp. We recorded our latest album as a four piece, and have performed a handful of shows as such. Some of the best compliments we ever receive, is when people tell us how much they have watched us change and progress over the years, and how much they still love the music we make.. The beauty in this is that its double-sided, ultimately ending with a great compliment to that listener for being creatively open-minded as someone who we make our music for and I feel a great affection for people who respond to us in that way. Was it a conscious decision to move away from horns? Absolutely not.. to be honest that's a ridiculous notion to me, as I view any instrument as only a vessel to create different sonic textures and landscapes, and definitely not something to define us musically or in a genre. In my opinion thinking like that is creatively weak. Sometimes its creative circumstances, sometimes its life circumstances, but whatever it is, we deal with what we have to work with and keep in mind that music and creativity is paramount. Many people have also expressed their disdain for us "abandoning" certain genres, and not staying true to who they THINK we are, especially through our current instrumentation. To these people I ask: "Do you get what we're about? Will you be the parent who still treats their child like a 10 year old when they are fully grown?" An extreme analogy I know. Why would you ever love a band as much as your own child right? But its not about that...Its more about whether you want to hold onto an image or specific attribute of something or someone you love, or watch it grow to be what it naturally is meant to become, even if it falls short of what you believe to be its apex. This is the point I'm trying to make. Part of the beauty of this whole exchange between creator and appreciator is however, your right to like and/or dislike whatever you want about us, DUH right? But just know that there's no point in telling us about your favorite aspect of our past other than your own satisfaction... It won't change a thing because we have no choice to progress and change. This is not an option for us, nor is it a conscious decision... it just happens.
I hope I don't sound salty or anything because I'm not. I'm really happy. I'm so proud of our new record and I have instantly taken a liking to it like no other record we've done. Even more than 'The Resignation' (fyi which many people hated on when it first came out). I say this because I truly believe the ultimate respect you can give anyone, especially your listeners, is to be completely honest. We don't view people at our shows as patrons, but rather participants in what we're doing.. so naturally I don't respect it when people who listen to our band expect to be patronized by us. I like being a fan.. I love finding things I like enough to earn that title.
-S. Choi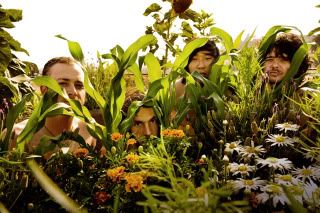 Ditched 'Groove-tech'. Our new style is 'cabbage patch kids'