I've been home from tour for a month now.. four weeks of relaxation, leisure, indulgence and stress about writing music pass the time quite effectively. Since my trip to Santa Rosa I've continued to sort out a lot of new themes and grooves for new RX material and Peace'd out. I've been jamming Freddie Hubbard 'Open Sesame', the Mike Patton Dillinger Escape Plan E.P. called 'Irony is Dead Scene' and Wilco just trying to soak in all the different styles I love so much. I think I'm going to try and design a keyboard and small recording set-up in my shower, because I get so many great ideas in the there being so happy and stimulated with the hot water and such. If I could also find a way to record ideas while on my bike that would be prime. I could pump out music to no end just from the shower and bike rides. Inspiration is rarely convenient, so understand this when I die of electrocution in the shower or from being hit by a car recording ideas.
So friday, we flew out to Denver to play this show at CU Boulder. On our way there my guitar was lost by Southwest airlines so I ended up using an exact copy of my guitar lent to me by a nice gentleman named Steven who played in one of the opening bands called 'Hearts of Palm'. Steven having the same guitar as me worked out quite nicely, seeing as I was contacted AFTER the show by the airline to tell me that my guitar had gone on to Philadelphia after not making my flight to Denver getting caught up in the baggage screening flail session run by the struggling peoples of the tsa. When I landed back in LA 25 hours later on Saturday morning my guitar was waiting for me at the baggage claim like it had never left. Sneaky bastard.
I also need to start brushing up on my Facing New York songs. I'll be playing guitar with them for their album release shows on Oct 10th at the Troubador and Oct 25th and 26th at Bottom Of the Hill in San Francisco (yesss another reason to go back and hang in the bay). I played with them on the dates they were on this last headlining tour we did, a few of you might have seen that, but I'm playing a couple more songs I'm not familiar with so I'm a little nervous. My hands have felt so shitty and clumsy lately, sometimes you just gotta take a break. I'm also about to freak out and shave my head because my hair is wayy too long and I can't stand it. I'm waiting for some fairy to come and pop this helmet of hair off of my head in the middle of the night so I can walk straight and think normally. I see videos of us from shows we've played, and pictures and interviews and I look like a korean troll. I hate it.
Check out my Jose Canseco mullet and Roger's ridiculous face at this Machines show in Tehachapi a little while ago. A fun hardcore show at a gym while I'm wearing my Built To Spill shirt.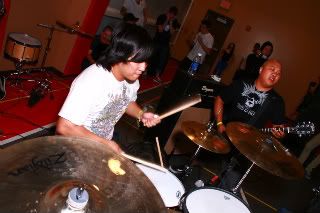 Who knows how much time I'll have for anything this month though. I get kinda freaked out looking at my calendar for October, because everyday on my ical has something written on it by me, and I'm afraid to read the little boxes..but its time. I'm ready because autumn is here, the 5 pm darkness is on its way with the cooler temperatures and I'm ready to bury my head in my work and try and write more music that I feel is better than the last. Self inflicted creative pressure sucks, but the stress of trying to meet some intangible expectation from our listeners is even worse. Not our listeners fault, I can only take it as a compliment as they so enthusiastically ask me what the new album will be all about after the show, but as they walk away I just feel.. scared. ha. Oh well, complacency produces nothing worth while in my life. Come out the FNY shows and support these fools, they are the real on the music tip.
and read 'The Golden Compass' trilogy, its legit. I'm listening to part one on audiobook currently.
End transmission.