I'm packing up while importing some of my old school cd's right now. We're heading out to Tucson, AZ tomorrow and our first show is on tues at the Rialto. We're taking a flip-cam out with us on this tour for some tour footage and video blogs, so I'll post links to em up on here as soon as we start. I'll also be back on a sunny caffeinated morning to fill all yall muffuggers on whats been happening on the road because I'm so over writing how hectic things are lately and its boring as shit. I've been doing all kinds of errands and editing more drums and bla bla bla bla bbbb llll aaaa. Enjoy your homes and rooms and bathrooms and kitchens all of you, I'm gonna be spending my next six weeks on the road... again.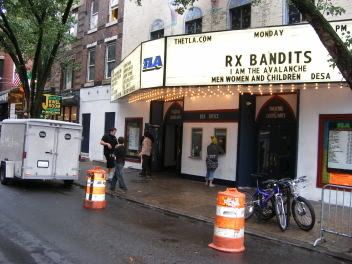 Whaaat. I'm not complaining.. Music I love, performance I love, seeing all my friends across the country, visiting my favorite cities I love.. Its just all the getting to those places and shit in between I hate.
Peoples who have cruisers, bring some down and lets go for a ride before the show. Or if you have a Benotto racing bike or a nice Giant 55 cm top bar then those will do also. peace out.