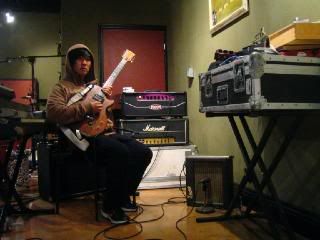 We'll see how far I get through this update.. my computer is seriously not happy and much is not well with it. I've had it in n out of applecare at the Southcoast Plaza Mac store, starting with a firewire port being replaced and now ending with messed up speakers and a screwed display in a macbookpro that keeps restarting. Other than that, things are all good. I'm at home for the weekend in the LBC right now, heading back to the studio tomorrow morning where we all eat, sleep, and record throughout the week to stay focused and enjoy the solitude of the outskirts of Pasadena.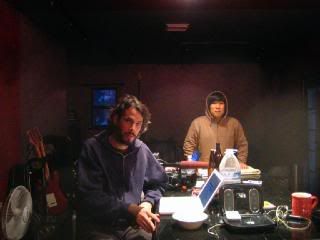 We began recording at 'The Mouse House' last Tuesday. The first day or two of recording is usually spent getting sounds, and the varieties of musical equipment set-up for the album.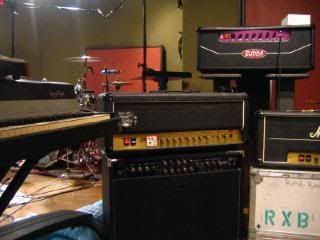 With us, since we record the basic tracks live.. the set-up, sound refinement and trouble-shooting is a bit more of a production. Usually, when records are recorded multi-tracked (meaning one instrument at a time) there is only one thing at a time to consider... but since we have our whole band set-up, the process becomes a little more of a scene but ultimately sounds, feels and grooves way cooler. In between running through takes of our songs, we do a lot of lounging in the kitchen/living room area of the studio/house. We've been eating a lot of cheez-its and tomato soup.. C. Fudurich has been drinkin on his acai/blueberry/pomagranate juice and pushing us to get the best performances he can.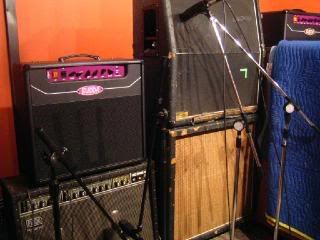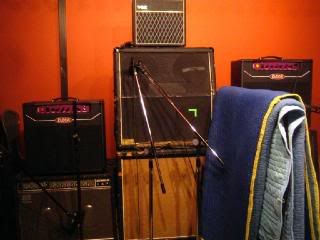 3 songs done! The work continues...
I'll check back with all you peoples in a couple days.